Piano Lid Fretless
Bass Guitar Project
Sure it looks funny, but it played great. This was my first bass project and was completed in December of 2002. Use the links to the left to see how my skills in bass making have improved over the past few years.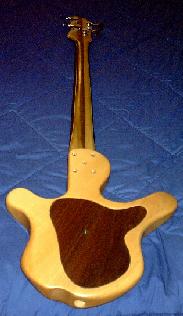 December 29th, Finished!
---
November 23rd, 24th 2002
The main wood for the guitar neck was take from a piano lid. The lid was made of Sycamore and Maple. The body was cut out of 2 inch maple block. The grain of the wood faces down at a 45 degree angle.

The neck is made of two pieces of sycamore with a half inch piece of walnut between. The sycamore was taken from an old piano lid.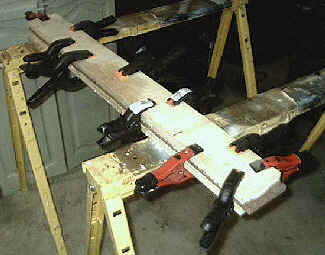 November 26th, 2002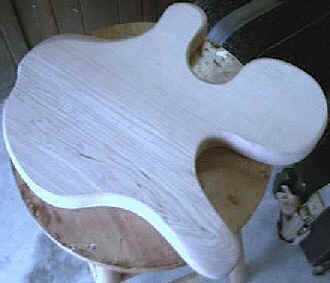 The neck is finished. 11-29-02


The Body ready for the router. I'm using a 1/2 inch pattern bit that I bought a Sears. The bearing is above the bit.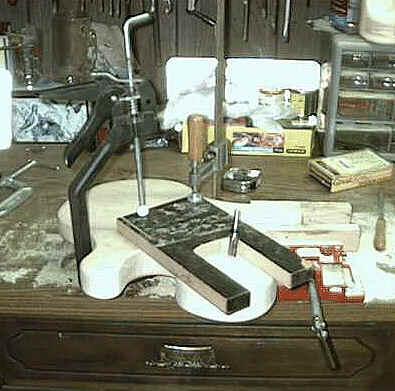 12-01-02 - Gluing the fretboard on the neck. After the glue had set for an hour, I put the neck in a heavy press to make sure there was 100% contact all the way around.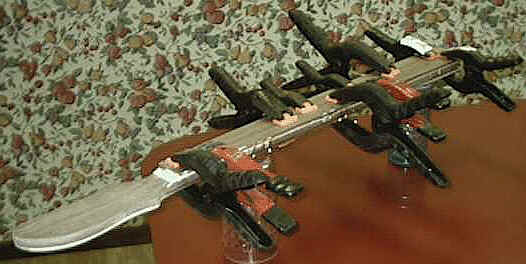 I was able to connect the neck to the body today. My next step will be to add all the hardware and test the bass before I take it all a part and do the finish. 12-02-02.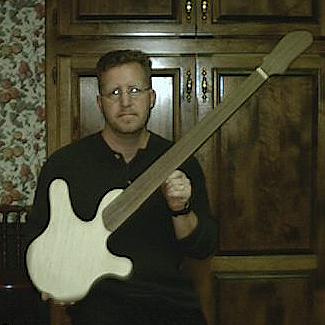 IIt's finally put together and plays like a dream!